Sebastian Vettel's total domination of Formula 1 last year has been singled out as a major factor in the sport's television audiences plunging 10 per cent. In the official 2013 Global Media Report published by F1's commercial rights owners, it confirmed a 50 million fall in worldwide viewing figures. Its data shows that there were 450 million viewers worldwide for F1 last year, down from just more than half a billion in 2012. The figure from 2011 was 515 million. In his introduction to the document, F1 supremo Bernie Ecclestone has no doubts as to why television stations struggled to keep viewers. "Last season our global audience was 450 million viewers, a decrease compared to 2012, although not an unexpected one," he wrote. "The less-than-competitive nature of the final few rounds, culminating in the championship being decided ahead of the races in the USA and Brazil, events which often bring substantial audiences, had a predictable impact on reach. The overall effect was exaggerated further still when you consider that the calendar was one race shorter in 2013."
            Although some major markets – including China and France – showed a dramatic fall in audiences, last year was not all bad news. The United States, the United Kingdom and Italy all delivered increases in audiences. Ecclestone also reckoned that 2014 would help rekindle interest in F1, with the arrival of new turbo engines set to deliver more exciting racing. "It is timely developments like these that keep Formula 1 at the forefront of sustainable and relevant technology," explained Ecclestone. "One thing I am sure of is that this coming season will not only offer a heightened level of unpredictability but renewed excitement and fierce competition." The decline in television audiences was believed to have been a major motivating force in Ecclestone pushing hard for the much criticised double points rule that is coming into force for the final race of 2014.
HOW THE COUNTRIES STACKED UP
Formula 1's annual Global Media Report offers detailed analysis of each of the individual markets where the sport is broadcast. While a majority of nations endured a drop in audience figures in 2013, some countries did enjoy a boost in viewership. The figures also reveal that market share that F1 enjoys in each of its markets, based on the entire television viewership for each country.
THE WINNERS                                               
UNITED STATES – F1's biggest audience increase was in the USA, with an 18% jump in viewership following the switch to NBC and NBC Sport. There were 11.4 million viewers in total (4% market share)
UNITED KINGDOM – Despite there being one race less, UK audiences watching on Sky and BBC were up 2% with just more than 29 million viewers in 2013. (48% market share)
ITALY – Enjoyed a slight increase in viewership to 35.8 million viewers as the result of dramatic expansion of race coverage on SKY Italia and RAI. (62% market share)
THE LOSERS                                                   
FRANCE – Dropped from around 27m viewers to 10m following switch to pay TV channel CANAL+ (18% market share)
GERMANY – Lost a 10 percent market share with 31 million viewers watching on RTL and Sky Germany (42% market share)
POLAND – The absence of Robert Kubica from F1 has not led to a dramatic switch-off in fans, with viewers shrinking from 12 million in 2012 to 9.6 million last year. (26% market share)
SPAIN – Viewership was down only slightly at 30.2 million, which is encouraging considering there was one less home race last year than 2012. (70% market share)
BRAZIL – Brazil has the largest single nation audience for Formula 1 with 77 million viewers watching last year, although this was 5 per cent down on 2012. (41% market share)
CHINA – A move away from state broadcaster CCTV to a host of regional broadcasters led to a dramatic drop in audience figures. Just 19 million viewers tuned in last year, around 30 million less than 2012. (1% market share)
JAPAN – F1's audience figure dropped just 2 million, which taking into account the shortened calendar shows the viewership is holding up (23% market share)
RUSSIA – Audience figures dropped 10 per cent to 12.3 million as coverage was shared on Rossiya 2 and RTR Sport. (10% market share)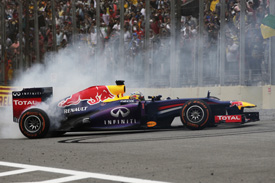 Source: Autosport