Red Bull insists it will never censor its drivers, after Sebastian Vettel's criticism of Formula 1's new engines caused controversy in Malaysia. Vettel labelled the sound of 2014's turbos engines as 's**t' ahead of the Sepang race amid the ongoing debate about the impact of new regulations. It is understands those outspoken remarks have not gone down well with FIA president Jean Todt, who will have an opportunity to speak to Vettel when he attends this weekend's Bahrain Grand Prix.
But despite Todt feeling that Vettel's remarks were unconstructive as the sport heads into a new era, Red Bull boss Christian Horner has backed his driver, and said his outfit would never choose to silence its men. "All the drivers are allowed to express their own opinion," he said. "Sebastian has expressed his opinion and I don't think anybody would condemn a driver for making an opinion. It (his opinion) is not one that he is alone on. There are differences of opinion and everybody is entitled to one."
Suggestions that Vettel could face a disrepute charge for his comments are understood to be wide of the mark, as are rumours that the FIA could use it as leverage ahead of its appeal court hearing against Red Bull over the fuel-flow controversy. Horner made it clear that there had been no discussions from FIA representatives about Vettel's comments in Malaysia. "Certainly nobody has spoken to me about it over the weekend," he said. "I think he has just said what he thinks. And rather than others in the pitlane damning him for it, I think he should be applauded for saying what he thinks. But unfortunately we live in quite a politically correct world this time. Part of Red Bull's philosophy, even though sometimes uncomfortable for the team, is for the drivers to have freedom of speech and expression."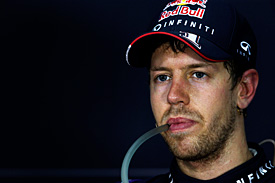 Source: Autosport.