Sébastien Loeb is the most successful driver in the history of the World Rally Championship (WRC). He raced with the Citroën World Rally Team starting from 2003 till his retirement from the WRC in 2013. He will be racing with Citroën in the 2014 FIA World Touring Car Championship (WTCC) which commences in April. He turns 40 today and below are 40 facts to match the birthday of not only the greatest rallying driver but one of the greatest drivers in the history of motorsport.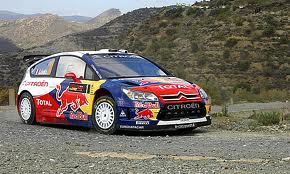 Sébastien Loeb's 40 facts: 1-10
1. Sébastien Loeb was born in Haguenau, France on February 26, 1974.
2. Before becoming a rally driver, Loeb worked as an electrician.
3. Loeb once spent his entire electrician's salary on a Renault 5 GT Turbo.
4. Loeb was a noted junior gymnast, once placing fifth in the French National Championships.
5. Loeb's first major rallying success was winning the 1999 Citroën Saxo Trophy.
6. Sébastien won the Junior World Rally Championship in 2001.
7. Between 2004–2012, Loeb won the World Rally Championship nine consecutive times.
8. Loeb performed a backflip on the podium after winning his first world championship in 2004.
9. Loeb's co-driver Daniel Elena has sat alongside him at every WRC round he's participated in.
10. Seb lost Rally New Zealand 2007 to Marcus Grönholm by 0.3s, the narrowest margin in WRC history.
Sébastien Loeb's 40 facts: 11-20
11. Loeb retired from Rally Jordan 2008 after crashing into fellow Citroën driver Conrad Rautenbach on a road section.
12. Loeb didn't go for a 10th title because, according to him, "I don't count!"
13. Sébastien's first WRC victory came at the 2002 Rallye Deutschland.
14. Loeb won 2002's Monte Carlo Rally – but was docked two minutes for an illegal tyre change and demoted to second.
15. The Argentinean, German and Spanish rallies are Loeb's best events – he's won eight of each.
16. Loeb's championships all came at the wheel of Citroëns: the Xsara (2004-2006), C4 (2007-2010), and DS3 (2011-12).
17. Sébastien celebrated his Rally New Zealand 2005 win by being carried around by rugby star Jonah Lomu.
18. Seb won the 2006 World Rally Championship from his sofa after breaking his arm mountain biking.
19. Loeb's only WRC outings for another marque came in 2000 when he drove a Toyota Corolla.
20. At the Tour de Corse 2005, Sébastien became the first driver to win every stage of a rally.
Sébastien Loeb's 40 facts: 21-30
21. Loeb has a full-size snooker table at his house in Switzerland.
22. Loeb is a three-time winner of the Race of Champions, and also won the Nations' Cup with Jean Alesi in 2004.
23. Sébastien drove a Renault R27 F1 car at a show run in 2007, while Heikki Kovalainen drove his Citroën C4 WRC.
24. Loeb has tested an F1 car, driving a Red Bull Racing RB4 at the Circuit de Catalunya and lapping just 2.752s slower than Sebastian Vettel.
25. Sébastien was rumoured to be a strong contender for an F1 seat at Toro Rosso in 2009.
26. Seb has owned a Porsche 911 GT3, a Lamborghini Gallardo and a helicopter.
27. Loeb drinks espressos and Red Bull to keep himself alert during a rally stage.
28. Surprisingly, Seb's biggest vice is sleeping!
29. Sébastien has raced in the 24Hrs du Mans twice, finishing second in 2006 in a Pescarolo C60 hybrid.
30. Sébastien set the record for the Pikes Peak International Hill Climb in 2013 in a Peugeot 208 T16.
Sébastien Loeb's 40 facts: 31-40
31. Sébastien's boss when he worked as an electrician was a fellow petrolhead who owned a Ferrari Testarossa.
32. Seb is the owner of an X Games gold medal, after winning the rallycross event in 2012.
33. Loeb loves motorbikes and last year competed at the Scorpion Masters motorcyclecompetition at the Paul Ricard Circuit.
34. Loeb owns his own GT racing team, Sébastien Loeb Racing.
35. In 2014 Sébastien will compete in the World Touring Car Championship for Citroën.
36. Sébastien is married to Séverine, who has also co-driven him at non-WRC events.
37. Sébastien's WRC career stats are: 168 starts, 78 wins, 900 stage wins and 38 other podiums.
38. Sébastien has only finished off the podium 14 times in rallies he's completed since 2003.
39. Seb won the fastest rally in history, completing the 2012 Finnish Rally at an average speed of 122.9kph
40. 2008 was Seb's best year for victories – winning 11 times on his way to a fifth WRC title.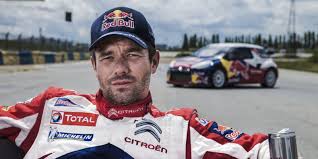 Source: Red Bull Motorsports.