Rooney's contract extension at Manchester United is the only and best option
The humble beginning of a boy born in Liverpool, England, starting his professional football career with Everton FC in Liverpool and went on to sign for Manchester United aged 18. The rest is all about how this Liverpool boy turned out to be one of the greatest things that has ever happened to Manchester United. This person is of course, Wayne Rooney. Ever since Rooney stepped into Old Trafford in the summer of 2004, it was never to be the same for both him and club. His superb debut in the UEFA Champions League where he scored a hat-trick in a 6-2 win over Fenerbahce at Old Trafford was just a tip of the iceberg what one would expect from this genius. Since that debut of his, Rooney has played his heart out for the team and what has been the outcome? Rooney has helped Manchester United to 5 EPL titles, 2 league cups, 3 community shields, 1 UEFA Champions League and 1 FIFA Club World Cup title. He has so many individuals awards that can take this whole space but the most recognisable is being awarded the Goal of the Season in the 2004/2005, 2006/2007 and 2010/201. Rooney's brilliant performances over the years have seen him scored 209 overall goals in 430 overall appearances for Manchester United. That makes him 40 goals shy of equaling Sir Bobby Charlton's record of 249 overall goals as united's all time top scorer.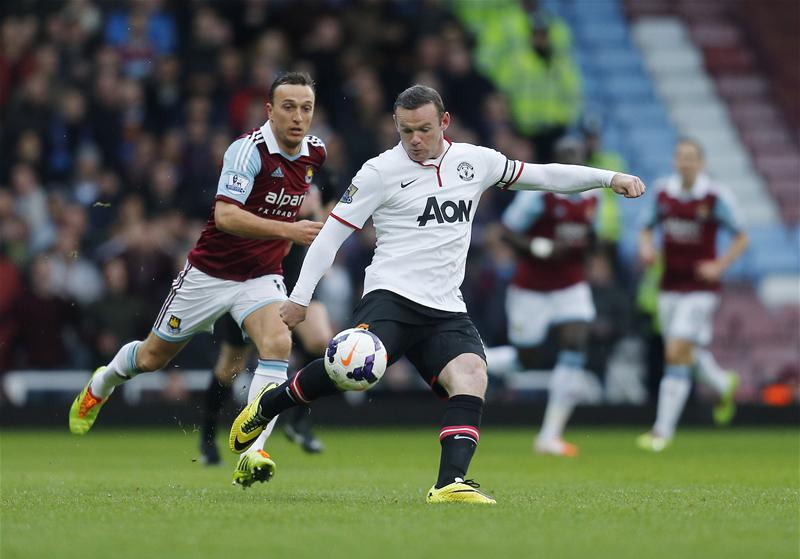 All these many achievements of Rooney have now seen him sign a mega contract that will tie him to Manchester United until 2019 when he would have been well into his 30s. The contract is reported to be worth £300,000 per week in wages and that makes him the highest paid player in the EPL. Part of the deal will also see Rooney turn out to be an Ambassador for Manchester United once he finally decides to call it a day.
Football is never without its critics. Some say that Rooney does not deserve a hefty pay since he is not in the class of Messi, Ronaldo and Ibrahimovic. Some claim Robin Van Persie is better than him so why will he earn more? While others say that Rooney is not even quality at all. People are free to say all they like but its best you look at what's on ground before you say something. Wayne Rooney has probably been the best player for Manchester United or will retire the greatest. You can name all the great United players from Andy Cole, to Dwight Yorke and Eric Cantona. They were all fantastic but Rooney is very unique. One of the things that makes Rooney stand out is his work ethics. He works tirelessly on the field, not staying in his position as striker. He can make adequate cover at the back if it is not performing and even spark life in the midfield if it is not running well. He is a great contributor of goals. Cristiano Ronaldo can speak of that and of course when it comes to scoring, who else can you bank on if not Rooney. He's just too brilliant a player and that's why rumours have spread overtime that the likes of Real Madrid, Barcelona, PSG and Chelsea have made advances on Rooney. Though Chelsea did make an official bid on Rooney and why wouldn't it be rejected? Losing someone like Rooney will be costly.
Over the years the British media as always is their tradition, look for ways of bringing down people who have made their names in a particular area. Football not been left out and of course Wayne Rooney. Rooney has been at the centre of scandals in the press which accused him of having extra marital affairs. Prostitute Helen Wood claims Rooney paid £1,000 for a threesome with her and Jennifer Thompson in a Manchester hotel whilst Coleen his wife was five months pregnant. It was reported his solicitors tried to fight the allegations when they first surfaced in early August 2010, but he was unable to prevent the publication of the fresh allegations as he had previously spoken of his shame at paying for sex. This did not go down well with Rooney as he could not cope with all the news surrounding him. It had an effect on his performances. Fergie was quoted saying: "I don't believe he has a confidence problem but the boy is starting to realise finally, without any question, what kind of focus is on him as a human being," Fergie said. "He is realising what it means to be at the centre of media attention for non-football-related questions."I don't think the boy can turn a corner at the moment without a camera on him. He can't move without the paparazzi being on him and, for a young person that is not what you want. You want to play and enjoy your football without that attention on you, because that can be quite exhausting."
Added to the media pressure he faced on his private life, Rooney at some point wanted to point to the exit door for reasons not clear. In October 2010, Fergie stated at a press conference that Rooney wanted to quit the club. This came after a period of dispute as to the extent of Rooney's ankle injury, where Rooney had refuted Ferguson's claim that the injury was the reason Rooney had been dropped to the bench. Rooney and his representatives released a statement regarding his decision to leave the club, insisting it is not down to money but ambition. Following this statement, Rooney made a dramatic U-turn and agreed a new five-year contract at Manchester United until June 2015. In the 2nd leg of the champions league tie between United and Real Madrid at Old Trafford on the 5th of March 2013, Rooney was dropped to the bench much to a surprise. United lost the game in controversial circumstances 2-1 after drawing the 1st leg in Spain 1-1 and eventually losing on aggregate 3-2. This was the beginning of another Old Trafford exit claim for the Liverpool born man and on 12 May 2013, Fergie announced after United's 2–1 win against Swansea City that Rooney had handed in his transfer request, a match in which Rooney also requested not to play. Fergie won the league for United in his last season at the club.
The man who tutoured Rooney at Everton, David Moyes now took over the reins at Old Trafford but the exit saga continued. Rooney's exit from Everton didn't go well with its fans and the relationship between Moyes and Rooney was strained when  On 1 September 2006, Moyes sued Rooney for libel after the tabloid newspaper the Daily Mail published excerpts from Rooney's 2006 autobiography that accused the manager of leaking Rooney's reasons for leaving the club to the press. The case was settled out of court for £500,000 on 3 June 2008, and Rooney apologised to Moyes for "false claims" he had made in the book regarding the matter. Even the apology, it seemed Rooney was not pleased with Moyes as the new manger and wanted to leave the club at all cost after Moyes said that Rooney would play 2nd fiddle to Robin Van Persie. Rumors followed that Real Madrid, PSG and Chelsea where in interested in signing the unsettled player. Chelsea made two official bids during last summer's transfer window but where rejected as Moyes insistently said Rooney was not for sale. Season kicked off, transfer window passed Rooney stayed at the club but his future was still uncertain until he decided to pen an extension to his contract.
With all the uncertainties that have surrounded Rooney, I think he has no place to go but Manchester United. If he had left for Chelsea, I don't think it would be the same of him. Manchester United is just the right place for him. Whether he plays a secondary role on the field or he gets benched for 6 matches for drop in level of performance, it doesn't warrant him to leave. Rooney's need to stay put at Old Trafford is like Steven Gerrard, Frank Lampard, Xavi and Lionel Messi. They have affinity to their clubs and seeing them leave might not be the same of them. Rooney was destined to be in Manchester United to achieve the status as the clubs greatest player. If all things go as should be, Rooney will become United's all-time top scorer and will break more records along the way. So whether you dispute the hike in his wages as unrealistic or that he is not a fantastic player, that for you to say. All that matters is that Rooney is on a mission to be the greatest player in arguably the biggest football club in world and when the curtain comes down for him when he will be playing his role as ambassador to the club, the rest will be history.