After Paul Scholes announced his retirement at the end of the 2012/2013 season, football lost an icon and Manchester United have not been the same. Getting to find a replacement for someone as talented as Scholes will be a huge task for current Manager David Moyes or any manager Manchester United might have in the future. He was so vital for United that Fergie had to call him out of retirement in 2012. Even England begged him to consider his national retirement in 2004. It's just unfortunate that Scholes was not really recognized on the world stage. Below are quotes from people across the football world who spoke about the genius Scholes was. Note that some of these quotes where made while Scholes was still an active player.
ZINEDINE ZIDANE        
"You rarely come across the complete footballer, but Scholes is as close to it as you can get, he is my favourite player."
"One of my regrets is that the opportunity to play alongside him never presented itself during my career."
"My toughest opponent? Scholes of Manchester. He is the complete midfielder."
"He's almost untouchable in what he does. I never tire of watching him play."
XAVI
"In the last 15 to 20 years the best central midfielder that I have seen- the most complete- is Scholes. I have spoken with Xabi Alonso about this many times. Scholes is a spectacular player who has everything. He can play the final pass, he can score, he is strong, he never gets knocked off the ball and he doesn't give possession away. If he had been Spanish then maybe he would have been valued more."
LUIS FIGO
"I'm star-struck when I see Paul Scholes because you never see him. On the pitch you can't catch him. Off the pitch he disappears."
EDGAR DAVIDS
"I'm not the best, Paul Scholes is."
"Every one of us (midfielders) is just trying to become as good as him. Everyone can learn from Paul Scholes."
PELE
"If he was playing with me, I would have scored so many more."
PATRICK VIEIRA
"The player in the Premiership I admire most? Easy- Scholes."
ROY KEANE
"An amazingly gifted player who remained an unaffected human being."
LAURENT BLANC
"I tell anyone who asks me- Scholes is the best English player.
XABI ALONSO
"I admire him a huge amount. To me, he is a role model."
WAYNE ROONEY
"The best player I've played with or against."
JOSE MOURINHO
"One of the best in the world. Manchester United are lucky to have him."
THIERRY HENRY
"I can't understand why Scholes has never won the player of the year award. He should have won it long ago. Maybe it's because he doesn't seek the limelight like some of the other 'stars'."
"He is my Favourite player."
"United always had many amazing players, but whenever we faced them we were always, always, always scared of what Paul Scholes could do. "Ask anyone from that old Arsenal team, they will tell you the same."
DIEGO MARADONA
"His technique is unique."
RONALDINHO
"I want to pass like him. Who taught him how to do that?"
BRIAN KIDD
"Paul Scholes had the best football brain I'd ever seen in a kid. Let's face it. Paul Scholes is in a class of his own."
MARCELLO LIPPI
"Paul Scholes would have been one of my first choices for putting together a great team."
PEP GUARDIOLA
"Out of everyone at Manchester United, I would pick out Scholes, he is the best midfielder of his generation. I would have loved to play alongside him."
CESC FABREGAS
"He is the one whose level I aspire to. He is the best player in the Premier League."
LIONEL MESSI
"At La Masia his name was mentioned a lot. He's a teacher."
"He's an inspiration."
GERARD PIQUE
"One of the best players I've ever seen in my life."
DIMITAR BERBATOV
"Nobody else can play the way Paul Scholes does."
CRISTIANO RONALDO
"When we were in training, I used to do a lot of tricks which hardly any players at the club could do. Once I was showing my skills to Scholes. After I finished, Scholes took the ball and pointed to a tree which was about 50m from where we were standing. He said, I'm going to hit it in one shot. He kicked and hit the tree. He asked me to do the same; I kicked about 10 times, but still couldn't hit it, with that accuracy. He smiled and left."
GARY NEVILLE
"I wouldn't swap Paul Scholes for anybody. He is quite simply the most complete footballer I have ever played with. He is the best."
RIO FERDINAND
"Best player? For me, it's Paul Scholes. He'll do ridiculous things in training like say, "You see that tree over there?" It'll be 40 yards away-"I'm going to hit it". And he'll do it. Everyone at the club considers him the best."
GEORGE BEST
"He is simply the best."
DAVID BECKHAM
"Even when I'm playing with Real Madrid, the players always say to me 'what's he like?"
RYAN GIGGS
"I have played with some great players in my time at United but I would have to put Paul Scholes down as the best."
SIR BOBBY CHARLTON
"Many great players have worn the shirt of Manchester United. Players I worshipped, then lost with my youth in Munich. Players like Denis Law and George Best who I enjoyed so much as team-mates and now, finally, players I have watched closely in the Alex Ferguson era. And in so many ways Scholes is my favourite."
"Paul Scholes is my favourite player. He epitomises the spirit of Manchester United and everything that is good about football."
SIR ALEX FERGUSON
"Without question, I think Paul Scholes is the best player in England. He's got the best skills, the best brain. No one can match him."
"He has an awareness of what's happening around him on the edge of the box which is better than most players. As a kid he always had a knack of arriving in the penalty area just at the right time, but he's proving just as effective from outside the box because he's using his experience in the right way. It doesn't matter who I am thinking about bringing into my midfield, Paul Scholes will be included, as he would in any side in the world."
PAUL SCHOLES
"I am not a man of many words, but I can honestly say playing football is all I have ever wanted to do."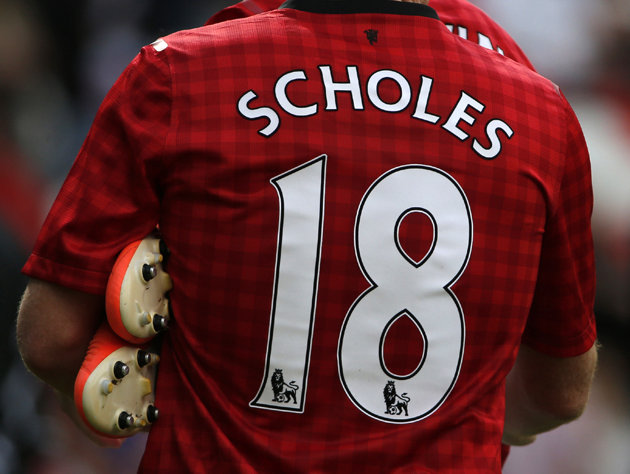 If you have a quote about Paul Scholes too, drop it as a comment below.