Should Chukwuka Onuwa reconsider his Enyimba future?
Physique is one characteristic that defines a player, his position and delivery. And as it is clearly defined as the form, size and development of a person's body, its relevance in football is of utmost importance. It offers description and recognition.
Chukwuka Onuwa enters this discourse being one of the pint-sized players in the Nigeria Professional Football League.
Although it is not a major criterion in taking part in football, ignorance of it cannot be permitted in certain roles on the pitch. Peter Crouch, Zlatan Ibrahimovic, Cristiano Ronaldo and Santi Cazorla asides their obvious football strengths, they can be distinguished by their physique – height.
Zacchaeus – the tax collector is also one example who was qualified by his small physique in the Bible, but that did not serve as a hindrance in achieving his aim. This is the case of Onuwa – a highly-talented and gifted football brain.
The Genesis of Onuwa
The diminutive midfielder burst onto the NPFL scene in 2016 with MFM. The church boys waited six months for their debut and when it came, they excelled. MFM went away to Nasarawa United and won 2-1. Musa Newman opened the scoring before Onuwa doubled his side's advantage while Ifeanyi Nweke's goal for the home side only ended as a consolation.
Onuwa and MFM, with their enterprising style of play under Fidelis Ilechukwu became the toast of many. On the pitch, the man at the centre of it all was Onuwa; a majestic carrier of the ball, skillful and an embodiment of creativity in all the years he spent there.
Will Onuwa Chukwuka ever get his chance at Enyimba? Man is on the bench once again.#NPFL20 #ENYAKW

— Engineer Kowope (@Undisputed_Jsam) November 17, 2019
In an interview with Elegbete TV, Onuwa said that he sees his height as an advantage and emulates Lionel Messi, Mathew Valbuena while Luka Modric is his role model. He uses his little body frame to its fullest, running circles and easily getting past his opponents before creating those exquisite chances for his teammates.
Meanwhile, when we take a cursory look back at the build-up to Sikiru Olatunbosun's goal against Rangers International on February 24 – CNN Goal of the Week winner, it is an epitome of Onuwa's class. His best came in the 2017 season, although MFM narrowly missed out on the title that year.
The Exodus that included Onuwa
The 2017 season placed Onuwa more on the big stage. With the ball at his feet, his composure and ball carrying abilities makes it difficult to take the ball away from him despite his small stature. His importance to MFM's build-up every game was remarkable over the course of the season.
After the departure of Steven Odey to FC Zurich, Olatunbosun – other members of the MFM trinity and Onuwa's departure was just a matter of time.
Amazing scenes.

Undoubtedly, Onuwa brings a lot of creativity and how he's not been seeing much game time is shocking to me.#NPFL19 https://t.co/SQ3wsViGjT

— Engineer Kowope (@Undisputed_Jsam) February 10, 2019
After years of blossoming in Lagos, Onuwa crossed down to the South-East and joined Nigeria's most successful club, Enyimba. Onuwa's move got many of the Aba faithful excited. He arrived with so much promise, after a rise from the second tier of Nigerian football to become one of the best playmakers in the topflight.
Enyimba gone for wrong for Onuwa
Onuwa got his first Enyimba goal against Remo Stars some weeks after his signing – He came off the bench to score the winner. Coach Usman Abdallah kept him out of his team for most of his rein and the appointment of Fatai Osho hasn't changed the talented player's status on the bench.
Yeah. Onuwa has got no business in the team for now and he still doesn't want to move – pay might be a key point here. Olisema shouldn't just jump out for some mediocre deal. He deserves better.

— Engineer Kowope (@Undisputed_Jsam) May 14, 2020
Onuwa has not had enough playing time to show off his creativity adroitness. Onuwa, not his own doing though, has failed to make an indelible impact in Aba. Yet, he is still a favourite each time he takes to the pitch in front of the home support.
 Re-evaluation for Onuwa
Whether it is surprising or not, the former Heartland man has found it difficult to break into the team. Being a creative force will not be enough at Enyimba, going by Cyril Olisema and Austine Oladapo's performances last season, you have got to be an all-rounder. He made less than five appearances in the league last term and ten outings for the Aba Elephants in his first season.
The latest acquisition of Anthony Omaka further makes it difficult for Onuwa to get playing time this coming season. Onuwa finds himself thus further down the pecking order.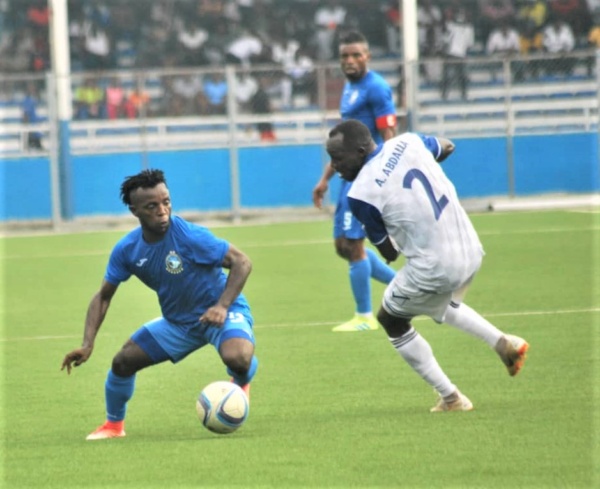 Though 'sugarball' suits Onuwa's attributes in Aba but one thing is clear, the former 36 Lion midfielder has no business in Fatai Osho's side presently. With a new season around the corner, Onuwa needs to make a decision about staying or leaving the club for where he can rekindle his career.
---
Where will Onuwa's next decision be if he decides to leave Enyimba? Share your thoughts in the comments section below.
Follow Samuel on Twitter: @Undisputed_Jsam
Photo credit: npfl.ng