Firstly did the 'only special one' as I'd like to call him say Arsene Wenger is a specialist in failure? Well he should think again. Jose Mourinho just failed. Let's also keep in mind Bayern's Annihilation from Real Madrid. It's kind of ironic how Bayern seemed to crush 'tiki-taka' last season and now they adopt the system and get crushed back. Now I said Mourinho has failed. Believe it or not but he has. Mourinho's tactics against Atletico Madrid was a total failure. He parked the bus in the 1st leg in Spain which was understandable as key players were missing and two further key players got injured. So let's accept he was right in tactics and it worked. Then he rested key players against Liverpool while parking two buses as Rogers said. He got the victory at Anfield and made sure the English Premeir League title goes down to the wire. So Jose is spot-on again.  Then comes the moment, the 2nd leg against Atletico Madrid. It's a complete Chelsea squad well except Oscar, Eto'o and Cech but that's no excuse because you would expect Chelsea to fire on but it all went wrong and in a moment all the tactical brilliance of the 'only one' destroyed in a once-upon-a-time fortress. Atletico Madrid did the unthinkable by reaching the Uefa Champions League final for the first time in 40 years against their cross-town neighbours Real Madrid. Atletico might have lost the final to Real but that hasn't taken away the remarkable season they've had. The remarkable feat of Atletico comes under the guidance of one man: Diego Pablo Simeone.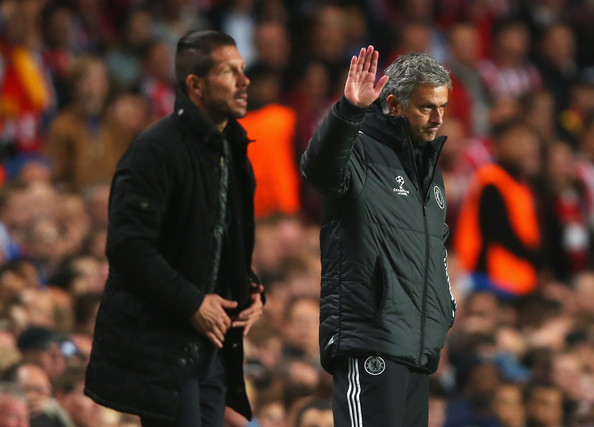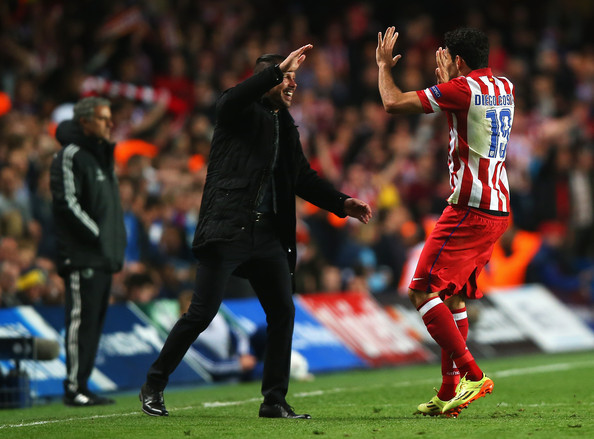 This man who was an ex Atletico player came in to manage the club he is adorned in December 2011. Atletico where in 10th place as at Simeone's arrival and they looked in danger of going down the drain further. They sacked Gregorio Manzano and quickly installed this fan favourite. Where Atletico taking a gamble in hiring Simeone even with his cult hero status at the Vicente Calderon? Absolutely not. What followed would be Atletico climbing up the table to finish a credible 5th in La Liga but that wasn't all. To top up a revived season, Atletico took home the UEFA Europa League. So Simeone proved his cult hero status at managerial level but was that enough to say this man is good? No because more was to come. Simeone led Atletico to an emphatic 4-1 win over 2012 UCL champions Chelsea in the UEFA Super Cup. Simeone had entertained the football world with surprises and you could be sure more was coming.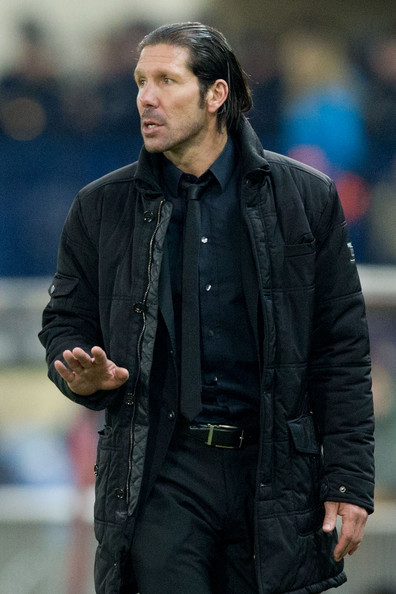 Atletico Madrid finished the 2012/2013 La Liga season in 3rd place, thus taking Los Rojiblancos to the UEFA Champions League for the first time since 2009. Like Simeone wouldn't surprise us again. He led his Atletico team to victory in the Copa Del Rey final against foes Real Madrid, the first victory for Atletico in a Madrid Derby since 1999. You could say Simeone was destined to do greater things. If you predicted that, you are so right. The 2013/2014 has been superb for Atletico. They've won the liga title for the 1st time since 1996 when Simeone was playing for the team. It will also be the 1st time a team won the La Liga other than Barcelona or Real Madrid since Valencia in 2004.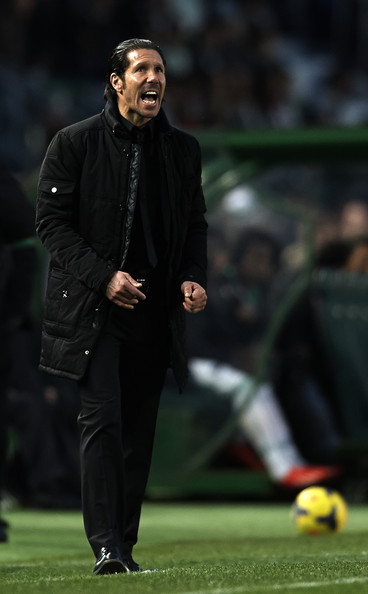 Here is just how brilliant Simeone's men have been this season: In 6 meetings with Barcelona, Atletico have been unbeaten, drawing 5 and winning 1, that one victory coming in the champions league quarter finals. Atletico is the team Lionel Messi has scored most goals against a single team with 20 goals. This season he failed to find the net against them. Moving on the Champions League, Atletico Madrid has been nothing but outstanding. Prior to the final, they were the only team unbeaten and conceded the least amount of goals. Paired in a group consisting of FC Porto, Zenit and Austria Vienna, Atletico were favourites but you would expect the three to give Simeone's team a run for their money. Well that didn't happen and Atletico topped the group and finished 10 points ahead of 2nd placed Zenit. Then came knock-out time. Atletico had AC Milan to stop. AC Milan are not the team that once dominated Europe. The team wasn't in form but you would say, Milan are still experienced and Atletico will have it tough. It happened to be the other way round. An emphatic 5-1 aggregate win took Atletico to the quarter finals to meet liga chasers Barcelona. A tough match it was for Simeone but his team prevailed in the tie and showed that everything is not about 'tiki-taka'. Now came Chelsea in the semis and you know Mourinho has some tricks to play. Well Simeone stayed cool, not bothered by all the talk and Atletico prevailed against all odds to book a place in Lisbon with Real Madrid.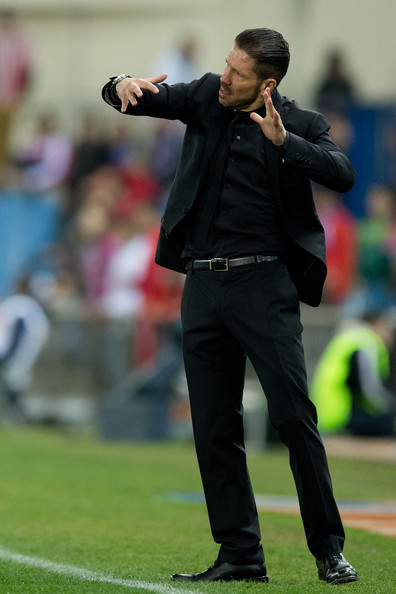 Simeone has indeed dazzled the world of football but what is his secret behind all this amazements? Simeone has installed discipline into Atletico Madrid. Simeone was a defensive midfielder in his playing days and as DM, you have to be disciplined so it's not hard to see him extend such in management. Atletico Madrid are focused and determined. This is what I regard as a key factor to the results they get against the big opposition. There is also motivation. It's no doubt that Simeone is big motivator. You can see it from the way he shouts and screams from the touchline. The results are needed and motivation coupled with focus and determination has made Atletico Madrid excel well beyond expectations.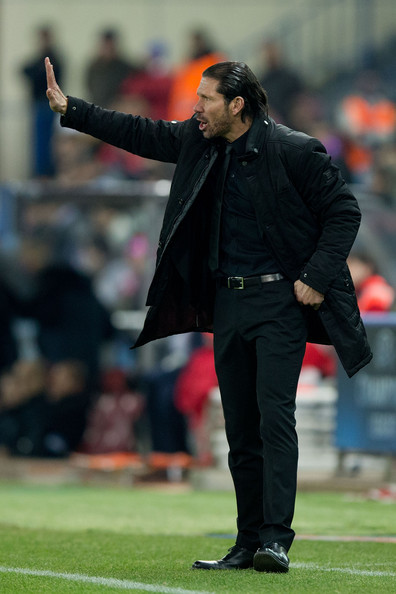 There is nothing spectacular about Atletico Madrid. It doesn't have a fancy squad. The squad is not up to what Real Madrid has talk less of Barcelona. They have just a small group of players who play their hearts out week in week out. This tiny squad has had the privilege of having most of its players fit for much of the season. Atletico Madrid does not have a good financial base either. The wealth of Real Madrid is about twice that of Atletico. Atletico have been going through financial problems over the years. An unstable finance has made the team sell most of its key player to generate some revenue. Despite the shaky finances, Atletico have stood tall and strong this season and credit to how Simeone had managed his players into not leaving the club and making some good bargains in acquiring players like experienced striker David Villa and resigning young keeper Thibaut Courtois on loan from Chelsea. A problem Atletico will have this coming summer is trying to hold on to its key players once more as well as Simeone. Since Atletico have overachieved this season, the clubs players and coach will be highly sought after. Because Atletico's finances are not looking pretty, the club might cash in on some key players to raise revenue. This might unsettle the team especially if Simeone leaves. The levels of performance might drop and Atletico might not live up to the heights of the 'Simeone era' again. Whether all this happens remains unforeseen but it won't be denied or taken away that Diego Simeone will go down as a recognised coach in football history.