Roberto Mancini probably still pinches himself, seven days after Italy's dramatic success at the Euro 2020 Championship, due to the utter disbelief of their triumph.
The experienced tactician had probably imagined this eventuality but even his optimism had to have wavered in the face of observers tipping France, Belgium, England…or did it?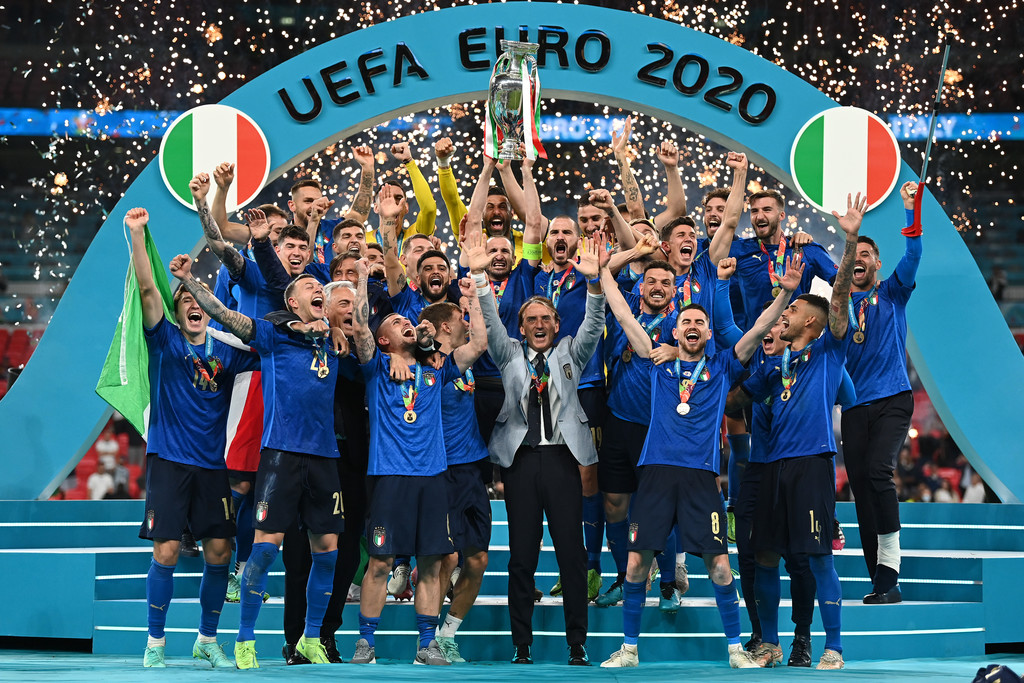 The former Manchester City boss had unfinished business with the national team, owing to how his own Azzurri career ended in the early 1990s. The 56-year-old was pivotal in Sampdoria's only Serie A success to date in 1990/91 and enjoyed a storied career with Samp and subsequently Lazio.
Yet, a short-lived international career left him unfulfilled. Indeed, Euro 2020 represented a chance to right previous wrongs with Italy.
???? 2017: Italy hit rock bottom by failing to qualify for the World Cup

???? 2018-2021: Italy go on a 34-match unbeaten run and win #Euro2020

???? What an incredible run for Roberto Mancini's brilliant Azzurri #Euro2020Final #ForzaItalia #ItsComingRome pic.twitter.com/buc6iX5Qqa

— Sporting Life Football (@SportingLifeFC) July 11, 2021
After suffering a David Trezeguet golden goal heartbreak against France in  Euro 2000 and having been on the receiving end of a can of whoop-ass by Spain in 2012, last Sunday's triumph over the Three Lions on penalties still reverberates.
The Azzurri were already in a jubilant mood 21 years ago in Rotterdam until a Sylvian Wiltord drive in the 94th minute silenced a celebratory bench and prime Mario Balotelli couldn't inspire the Italians against La Roja 12 years later.
Italy hoped to be third-time lucky at Wembley Stadium. A nation wondered what it would eventually feel like to end 53 years of hurt since their only Euro triumph as hosts in 1968.
Through the streets of Rome we go ????#Azzurri ???????????? #EURO2020 #VivoAzzurro pic.twitter.com/BPyjRHWPBC

— Italy ⭐️⭐️⭐️⭐️ (@Azzurri_En) July 12, 2021
Once the huge Gianluigi Donnarumma thwarted Bukayo Saka in what would have forced sudden death in the shoot-out, all of Rome probably struggled to keep a lid on their elation.
It wasn't just the goalkeeping mammoth, however. The greatest facet of Mancini's group was their togetherness and cohesion. Every starting player had a role to play, every individual depended on came up trumps.
Donnarumma claiming the UEFA Euro Player of the Tournament initially raised eyebrows, but it was going to be tricky picking one because several players on the winning team could lay claim to the honour.
The much-maligned Jorginho was arguably the best midfielder in the month-long showpiece, Federico Chiesa thrived in his debut tournament with the Blues and Leonardo Spinazzola was probably the most dynamic full-back until the tendon of his left Achilles snapped against Belgium.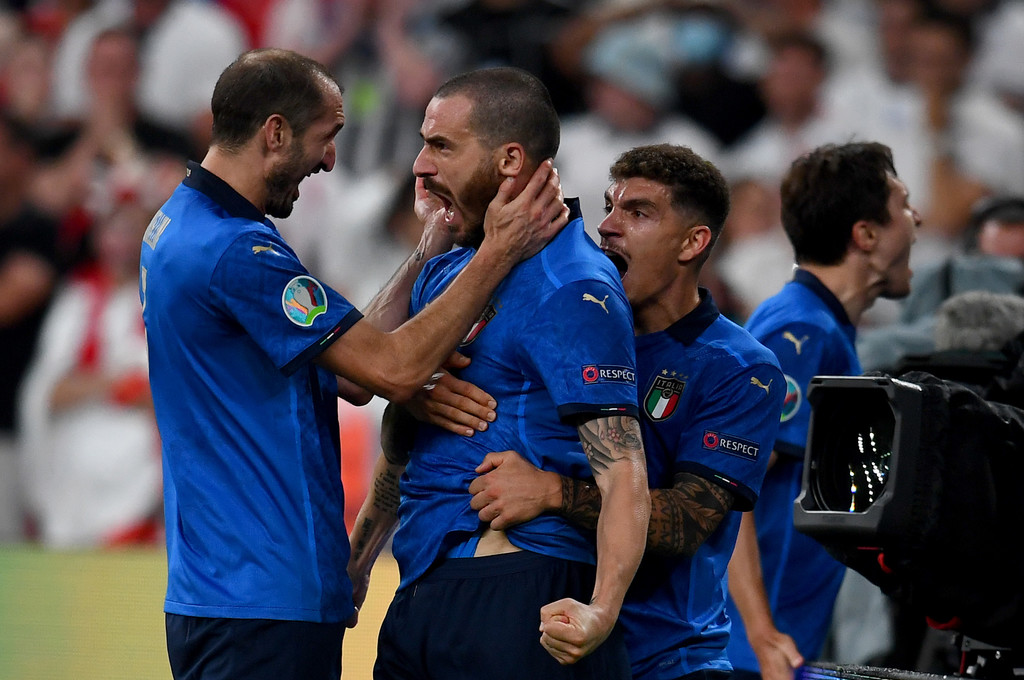 How about Leonardo Bonucci and Giorgio Chiellini? A few observers doubted the stalwarts' ability to flourish following injury-hit campaigns at Juventus in 2020/21. Chiellini, in particular, was a beneficiary of the competition's shift to 2021, having missed nearly the entire 19/20 due to a cruciate ligament rupture.
When the 36-year-old centre-back went off after 24 minutes against Switzerland in the group stage, you feared his competition was over.
However, he returned to play a pivotal role against Belgium, Spain and England to help Italy to only their second-ever Euro victory.
We say "Chiellini and Bonucci".

You say _________ ✏️#Azzurri ???????????? #EURO2020 #VivoAzzurro pic.twitter.com/ozrhElUAPJ

— Italy ⭐️⭐️⭐️⭐️ (@Azzurri_En) July 13, 2021
Having gone off after 21 minutes in that eventual 4-0 hammering by La Furia Roja in Kyiv nine years ago, the defender's determination to succeed this time was noticeable.
As was Bonucci, who levelled in the final and converted from the spot right after Andrea Belotti missed and Harry Maguire put England 2-1 up. He was named player of the match by the continent's governing body.
The 34-year-old was near ever-present, playing all but the second 45 minutes in the final group encounter against Wales.
Mancini should be praised to high heaven for masterminding the victory. He took the job in May 2018 when the nation's football was, by and large in dire straits, after failing to qualify for the World Cup in Russia.
???????? Five Italy stars in the Team of the Tournament. Who impressed most?

???? Gianluigi Donnarumma
???? Leonardo Bonucci
???? Leonardo Spinazzola
???? Jorginho
???? Federico Chiesa pic.twitter.com/fx5kIZ7bwn

— UEFA EURO 2024 (@EURO2024) July 17, 2021
Initially appointed on a two-year deal, the ex-Inter Milan boss ought to lead the Azzurri to next year's global showpiece in Qatar, barring any unforeseen turn of events.
Italy had never scored more than two goals in any European Championship game…under the Sampdoria icon they did it twice — securing a pair of 3-0 wins over Turkey and Switzerland — and were the only side to pick up maximum points without conceding a goal.
Mancini's troops came into the competition on a three-year unbeaten run, which stood at 27 games without losing. Seven games later, that sequence is now up to 34 — a national record — and that'll take some beating.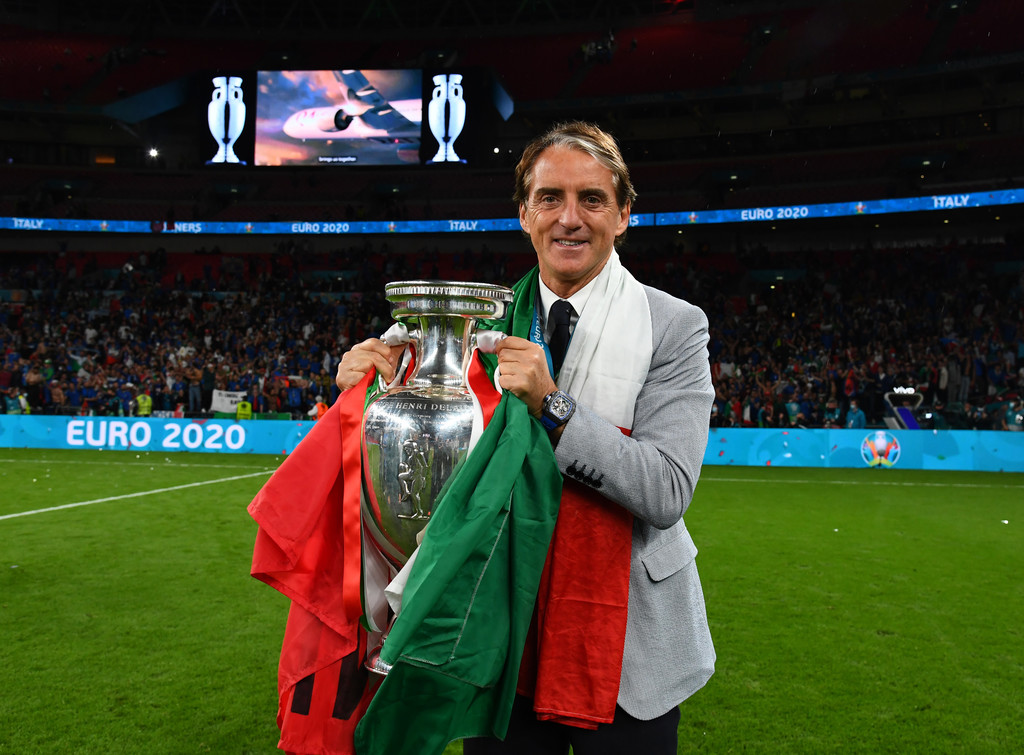 Next up: The UEFA Nations League semi-final in October against Spain in Milan and a possible final vs Belgium or France a few days later.
In this form, you won't bet against the Azzurri reigning supreme in the Nations League finals and claiming a fifth world title in 17 months.
---
Can Italy follow up with their fine Euro performance and do likewise at the World Cup next year? Share your thoughts in the comments section below.
Follow Seye on Twitter: @theReal_SeyE
Photo Credit: Getty Images