Lionel Messi: A global brand with an enduring legacy
Every disappointment is a blessing, so they say. At the fifth time of asking, Lionel Messi has finally won a trophy in an Argentina shirt. After final match defeats at three Copa Americas and a World Cup, Messi cemented his legacy as one of the round leather game's finest by lifting the 2021 edition of the South American nations' cup.
Detractors would say that the triumph was more about him than the Albicelestes as a group and that the victory was not in any way needed to make him greater than he already is. In truth, though, leading a country to a first trophy in almost three decades, with several heartaches along the way, is no mean feat.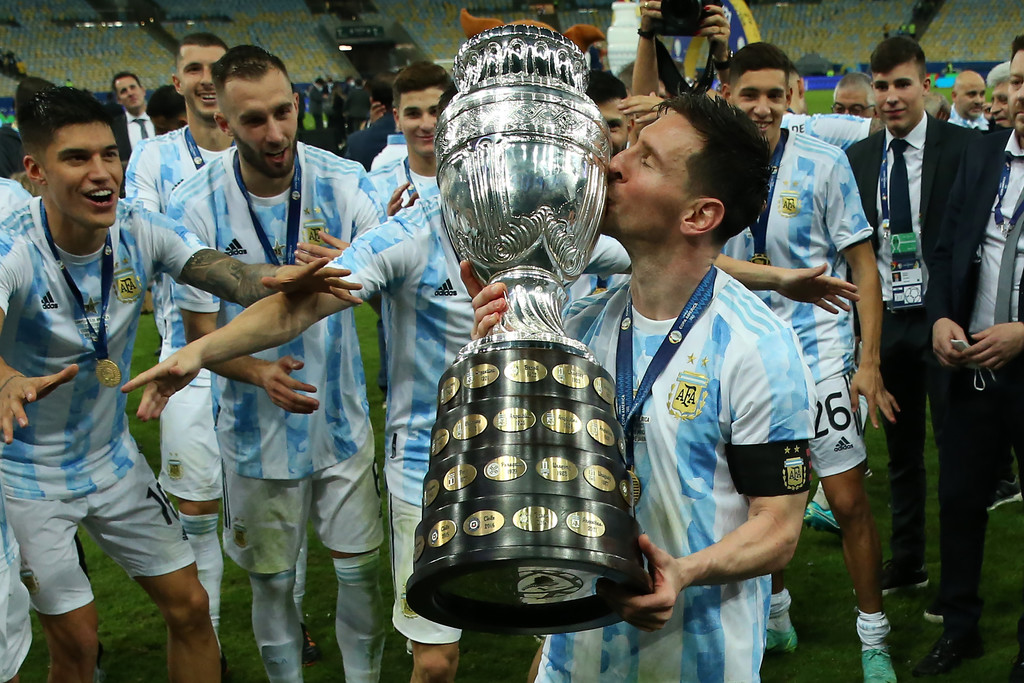 Before now, the foremost argument used by most soccer pundits to distinguish between La Pulga and his fiercest rival in Cristiano Ronaldo is his inability to replicate his club form at a senior national level. This latest victory has not only squashed that argument; it has become a sort of embellishment. When Angel di Maria lobbed Brazil goalkeeper Ederson to score, akin to what he did at the Beijing Olympics gold medal match thirteen years ago, Messi was truly on his way to becoming a continental champion.
In the end, he beat defending champions Brazil on their own turf to claim the ultimate prize. Messi has now become a winner with Argentina at Under 20 (2005), Under 23 (2008) and senior levels (2021).
???????? No player scored more goals at Copa America than Lionel Messi.

???????? No player scored more goals at Euro 2020 than Cristiano Ronaldo.

Still thriving ???????? pic.twitter.com/B9kiljtlEA

— ESPN FC (@ESPNFC) July 12, 2021
In captaining Argentina to continental glory, Messi also set incredible records along the way. Featuring in his sixth Copa America (a first by an Argentine), he equalled the record for most games played at the continental competition (34). He also surpassed the record for most appearances for the Argies (151). His assist for Lautaro Martinez's goal against Colombia in the semi-final was the fifth in the tournament (another first). With nine goal contributions in seven games and as the top scorer (4 goals), it was easy to see why Commebol named him Player of the Tournament. At 34 years of age, some would argue that Messi is now in "bonus territory". Evidence, however, suggests that there is still some fuel left in the tank to put the icing on the cake of an astonishingly glittering career.
???? Messi in the @CopaAmerica:

✅ Most goal contributions (9)
✅ Most assists (5)
✅ Most free-kick goals (2)
✅ Most through balls (9)
✅ Most chances created (21)
✅ Most passes made in final thirds (133)
✅ Most shots (28)
✅ Most shots on target (11) https://t.co/wZqeaawe06

— FC Barcelona (@FCBarcelona) July 13, 2021
Having come into the Copa on the back of a top-scoring season (the eighth) in Spain, Messi has top-scored at yet another tournament. His next two goals for Argentina will be iconic, as they will equal and exceed another Pele record for the number of official goals scored for a South American nation (77). With the next FIFA World Cup some 15 months away, there is ample time left for Messi to prepare for what may be the last attempt at becoming a world champion.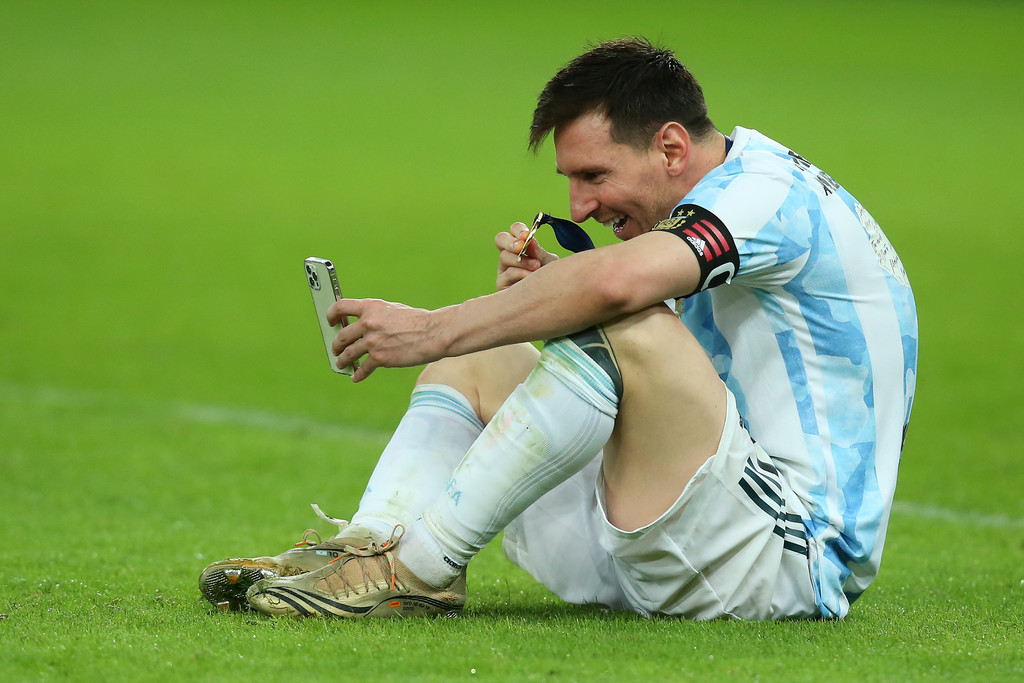 A win at Qatar will undisputedly engrave his name in the annals of history as the Greatest Footballer of All Time. After seeing his contract elapse, Messi will reportedly re-sign for Barcelona on a cutdown five-year contract which will see him play until he is at least 39. It will keep him in the hunt for a fifth Uefa Champions' League title and possibly more.
We can expect that his ongoing chase with Ronaldo for the all-time top scorer in the competition, 14 goals short of the Portuguese superstar's tally, will continue with passion. Messi will also have some time to cover grounds in the race for the national all-time top scorer in men's football history, another record held by Ronaldo.
#Messi = ????

First player in major international tournament history to be:

???? Tournament champion
???? Player of the Tournament
???? Top scorer
???? Top assister pic.twitter.com/tXmXr97aiS

— FC Barcelona (@FCBarcelona) July 11, 2021
Anyone who saw the celebrations of the Argentina team after the final match against Brazil saw how enduring agony turned into unbridled joy. It is a testament to the fact that success is achievable when persistence meets opportunity. This is something that not many footballers can lay claim to. Yet, it is an addition of a beautiful chapter to an incomplete script for a future bestseller.
There are still goals to achieve, new grounds to conquer, and dreams to actualize. Who says a seventh unprecedented Balon d'Or is not on the horizon? Who says the World Cup cannot be won with this Argentina team? Who says another The Best Fifa Men's Player award is not in the offing? It is clear to all and sundry that with Messi, no exploit is too great to attain.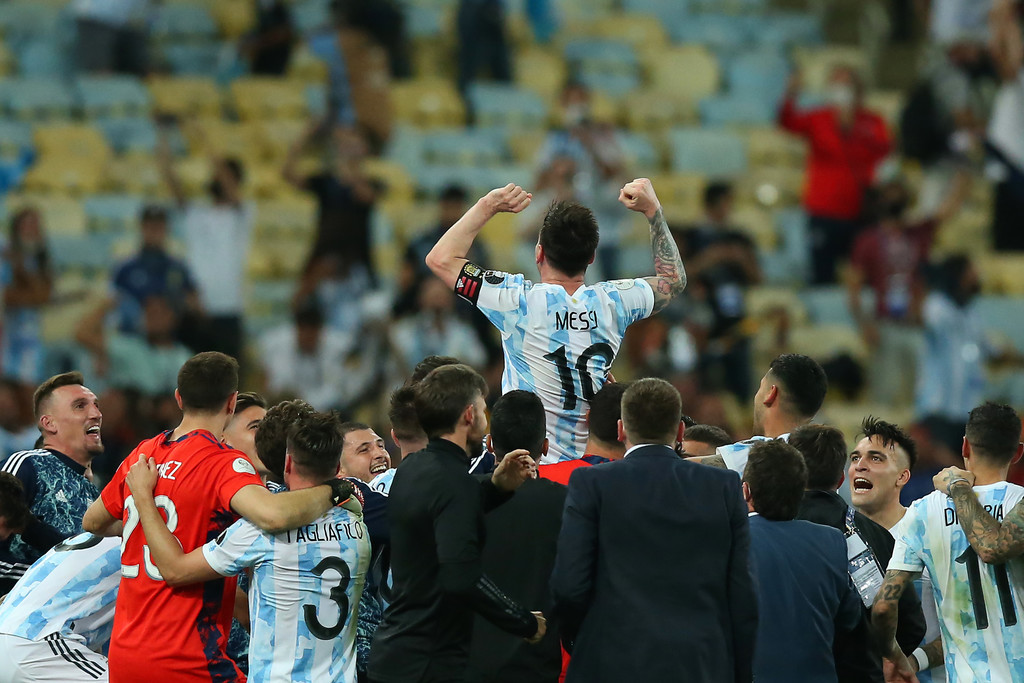 Right from the moment he stepped his foot on Spanish soil, Messi has been a phenomenon. Even now, his legacy continues to wax stronger. Some four years ago, shortly after qualifying for the 2018 FIFA World Cup, former Argies boss Jorge Sampaoli told journalists that football owed Messi a debt it needed to repay — for what he has contributed to football. It seemed that the message got across, and the debts have started to come in. One can only hope it will be paid in full in Qatar.
---
Can Messi still get his hands on the elusive World Cup trophy to further cement his legacy in the game? Share those thoughts in the comments box underneath.
Photo Credit: Getty Images